Workshops
Feed back experience shows that there is in Europe a need for Workshops which are neither a big congress nor a collection of working groups with lots of different meetings, but which over a few days provide a forum for a few dozen experts to exchange feedback experience and to identify problems that need further research or development. Therefore the Network has organised and will continue to organise such type of Workshop once a year.
The subject is selected in order to cover domains where the Network Steering Committee Group estimates that many improvements in terms of ALARA implementation may be found. All papers are invited presentations. To promote discussions, appropriate time is made available for work in small groups and the number attending the workshop is limited to a few dozens experts. The language of the Workshops is English.
At the end of each Workshop the chairpersons and the working groups propose to the participants some recommendations to the EC and national regulatory bodies and other stakeholders corresponding to the feedback from the sessions of the Workshop. These recommendations are validated by the Network Steering Committee Group and send to the Commission and to other appropriate stakeholders.
Details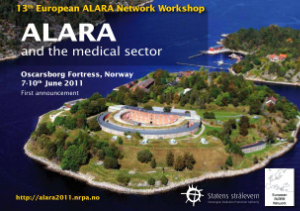 13th European ALARA Network Workshop, Norway 7-10 June 2011
"ALARA AND THE MEDICAL SECTOR"
pdf Download the Conclusions of the Workshop (588 KB)
With increases in patient doses, associated increase in occupational exposures, development of new technologies and the occurrence of serious incidents and accidents, the radiation protection challenges are mounting in the medical sector.
The aim of the Workshop is to consider how the ALARA principle can be effectively implemented with regard to both patient and staff exposures in diagnostic and therapeutic uses of ionising radiation.
The Workshop was a platform, bringing together relevant European medical professionals, networks and other stakeholders working with the ALARA principle, to exchange practical ideas and experiences and to identify further improvements related to better implementation of the optimisation principle in the medical sector.
Working Group Topics
Challenges for the optimization of patient and staff radiation protection in the medical sector
Keywords: Parameters for ALARA benchmarking, high-dose diagnostic and therapy procedures, socio-economic factors, reward systems, unnecessary exposure, etc.
Policies and tools for implementing the ALARA principle in the medical sector
Keywords: Referral criteria, recommendations, standards and guidelines, audits, inspections, justification issues, DRLs, etc.
Education, training and communication to improve ALARA in the medical sector
Keywords: ALARA culture, multi-disciplinary and multi-media approach, key competences, harmonization issues, exchange of knowledge, networking, etc.
Technical developments and quality assurance in the implementation of the ALARA principle in the medical sector
Keyword: Effective quality control, conception of equipments, costs, evidence base for new technology, hybrid systems, justification issues etc.
Read more: 13th EAN Workshop on "ALARA and the Medical Sector"