"Occupational Radiological Protection Control through Inspection and Self-assessment", Uppsala, Sweden, September 2004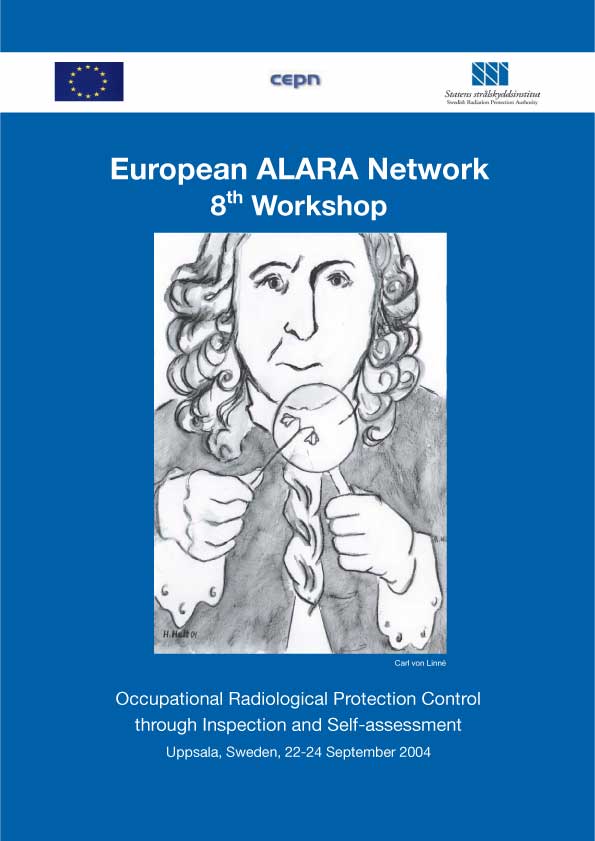 Download the Summary and Recommendations
The 8th EAN Workshop was devoted to "Occupational Radiological Protection Control through Ispection and Self- assessment". The objective of the Workshop was "to assess how regulatory authorisation and inspection, and internal controls (peer reviews, self assessment, etc.) contribute to achieving ALARA for occupational exposure". A total of 70 participants from 19 European countries attended the Workshop; respectively half and one third of the audience were from the regulatory bodies and utilities from medical and industry sectors.
In total, there were 14 oral presentations, and 10 poster presentations, organised under the following titles:
Setting the Scene
Regulatory Bodies and Control Organisations
Licensees and
Workers
The opening session included a presentation of the results of an EAN questionnaire on the size and structure of national regulatory authorities. It also identified a series of issues and questions for later consideration by the Working Groups. Half of the time was devoted to this discussions in small groups on the following specific issues:
Inspection
Self assessment
Workers' involvement and
Communication between stakeholders
8 main recommendations were produced and unanimously agreed on by the participants. They are dealing with inspectors training,as well as with the facts - that self assessment should become a regulatory requirement and give rise to guidance - and that the workers themselves should become active "stakeholders" in these processes – or that regulatory bodies network should be set up to harmonising inspections.
Programme and Downloadable Papers
Paper

Title, Authors

PDF


PPT


Session 1

1.1

Introduction to-and scene setting for occupational radiological protection control


C. Lefaure (France), P. Shaw (United Kingdom)







1.3

IAEA/ILO support for European regulatory authorities and other stakeholders in controlling occupational exposure


K. Mrabit (IAEA), S. Niu (ILO)

Session 2

2.1

The control and regulation of occupational exposure through the inspection process in the Czech Republic


Karla Petrova (Czech Republic)




2.2

Inspections by the Swedish Radiation Protection Authority


T. Cederlund (Sweden

)

2.3

The control of radiation protection in France


A. Jouve, S. Calpéna (France)

2.4

The independent qualified expert as an inspector


K. Persyn (Belgium)




P 2.5

Key aspects of the regulatory activity in industrial radiation protection in Switzerland


H. Kunz (Switzerland)




P 2.7

Regulatory control of the radiological protection in medical and research field in Switzerland


N. Stritt (Switzerland)

P 2.8

The statutory role of the Greek Atomic Energy Commission on the occupational aadiological protection control system


C. Hourdakis, V. Kamenopoulou, P. Dimitriou (Greece)

P 2.9

An overview of the inspection programme in Ireland


S.G. Fennell, C.P. Hone, A.T. Mc.Gary (Ireland)

P2.10
Spanish model for radiation protection of outside workers and inspection of outside undertakings


I. Villanueva, A. Martin, I. Amor (Spain)

P2.11

Norwegian Radiation Protection Authority – A history from technical dosimetry service to system inspections


T.-M. Davidson, A. Widmark and G. Saxebøl (Norway)

Session 3

3.1

Authority audits – from an operator's point of view


A. Valseth (Norway)




3.2

On the relationship between user survey and central administration vigilance in the medical use of radiation in Italy, Repercussions on the application of the ALARA principle


M. Marengo, C. Pettinato, S. Boschi, C. Bergamini (Italy)




3.3

Implementation of occupational radiation protection control at university and hospital work places


H. Pettersson, E. Lund (Sweden)

3.4

Role of independent inspections in achieving ALARA


A. Mac Donald (UK)




3.5

Occupational radiological protection control through inspection done
by Qualified Experts for licensing procedures in Austria


A. Hefner, A. Steurer (Austria)

P 3.6

Self assessment as internal control tool for occupational exposure


K. Coy (Germany)

P 3.8

Self-and regulatory control of the radiological protection optimisation in Swiss nuclear facilities


S.-G. Jahn (Switzerland)

P 3.9

ALARA in BNFL - The role of inspection internal to a major operator


T. Bradford (UK)




Session 4

4.1

How stakeholders in the health sector perceive the organization of radiation protection controls by in France


C. Gauron, P. Fraboulet, Ph. Menechal (France)




4.2

Punishment or learning?


G. Svensson (Sweden)






4.3

A way to confront stakeholders point of view on radiological protection topics


C. Murith (Switzerland)