"Occupational Exposure to Natural Radiation", Augsburg, Germany, October 2005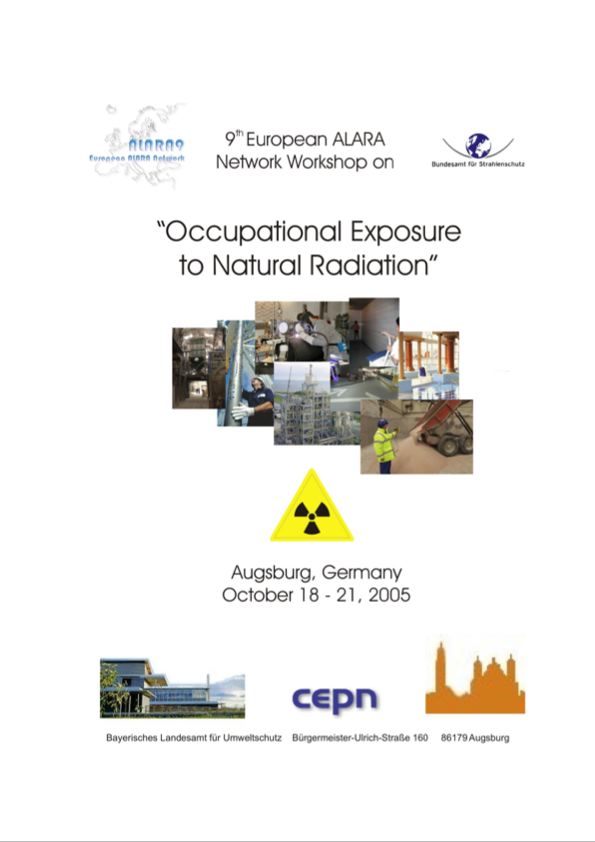 Download the Summary and Recommendations
See the pictures of the 9th Workshop

The aim of the 9th EAN Workshop was to focus on exposures arising from natural radiation sources in the workplace, in particular from Naturally Occuring Radioactive Materials (NORM) and from radon gas. Assumptions lead to estimate that it concerns approximately 100 000 workers in the NORM area in Europe and may be up to 1 000 000 exposed workers to radon.
The objectives of the Workshop were to consider the following questions:

How can the commitment to radiation protection be encouraged and increased?
How should exposure management (for NORM and radon in the workplace) be improved?
More than 50 participants from 14 European countries attented the Workshop as well as representatives of 3 International Organisations with viagra safe. In total, there were 23 oral presentations, and 6 posters presentations, organised under the following subjects:

Introduction and scene setting
Increasing the commitment to radiation protection
Managing exposures from radon and NORM
Two afternoon sessions were devoted to discussions in small groups on the following specific issues:

Types of regulation and the optimisation of protection
Communication and stakeholder involvement
Practical management of radon exposures
Practical management of NORM exposures
The reports from these Working Groups were presented and discussed on the final day, from which the key findings and the 8 recommendations from the Workshop were derived.
Programme and Downloadable Papers
Paper


Title, Authors

PDF


PPT


Session 1 - Introduction



1.1

Introduction and Scene Setting
P. Shaw and C. Lefaure

1.2

The European Union Basic Safety Standards on Natural Radiation Sources
E. Henrich and A. Janssens

1.3

Application of the International Safety Standards to Radon and NORM
D. Wymer and S. Niu

1.4

Aircrew Monitoring for Occupational Exposure to Ionising Radiation
G. Frasch, R. Stegemann and L. Kammerer


1.5

Strategies and Methods for Optimisation of Internal Exposures of Workers from Industrial Natural Sources (SMOPIE)
J. Van der Steen, A.W. Van Weers, C.W.M. Timmermans, P. Shaw, C. Lefaure,
J.P. Degrange and O. Witschger


1.6

The SMOPIE Project: Case studies with industrial partners
P. Shaw


Session 2 - Increasing the Commitment to Radiation Protection

2.1

Lessons Learned from Surveillance Part 1: General Procedure for Controlling Occupational Exposure to Radon
T. Beck and E. Ettenhuber

2.2

Problems Faced by National Authorities in Improving NORM Regulations
V. Delporte

2.3

National Enforcement of Radon in the Workplace (UK)
G. Thomas

2.4

Civil Compensation Claims and Radon Risk in Irish State Buildings
P. Kirwan

2.5

Radon in Irish Above-Ground Workplaces: Regulatory and Information Efforts
D. Fenton and P. Colgan

2.6

Substitution of Thoriated Tungsten Electrodes in Switzerland
H. Kunz and G. Piller

2.7

Phosphorus Production and Natural Radionuclides: Consequences for the Operators Concerned
W.H.H. Erkens

2.8

TENORM and ALARA in the Florida Phosphate Industry
V. Astley, B. Birky and J. Hilton

2.9

Occupational Exposures and Distribution of Natural Radionuclides in Phosphoric Acid Production by the Wet Process (Spain)
J.P. Bolivar, J.P. Perez-Moreno, J.E. Martin, J.L. Mas and R. Garcia-Tenorio

Session 3 - Managing Exposures from Radon and NORM

3.1

Lessons Learned from Surveillance Part 2: Measuring Methods and Monitoring Strategies
T. Beck and E. Ettenhuber

3.2

Occupational Exposure to Radon in French Treatment Spa Facilities
R. Ameon

3.3

Investigation and Reduction of Personnel Radon Exposure Levels in Bavarian Water Supply Facilities
S. Körner and C. Reifenhäuser

3.4

Assessing Radon Exposures from Materials Containing Naturally Occurring Radioactive Material (NORM)
D. Orr

3.5

Assessment, Treatment and Management of NORM in the Norwegian Oil and Gas Industry
P. Varskog and H. Aamlid


3.6

Analytical considerations in assessment of workplaces exposed to NORM
E. Hrnecek

3.7

Report on the ECE II Thoron Metrology and Dosimetry Workshop, Serbia, 06-2005
J. Mc Laughling and Z.S. Zunic

3.8

Adequacy of Existing Aerosol Samples for Monitoring NORM Exposures
O. Witschger

Session 4 - Summary and Recommendations

4.1

Summary and Recommendations
C. Lefaure and P. Shaw

Posters

P.1

Is ALARA Right for Radon?
D.W. Dixon




P.2

Exposure to Radon in Workplaces of Several Spanish Industries
L.S. Quindos, C. Sainz, I. Fuente, J. Nicolas, L. Quindos an J.L. Martin Matarranz




P.3

Natural Radioactivity, Exposure and Radiation Protection for Selected Working Areas
J. Döring, T. Beck, M. Beyermann, J. Gerler, J. Mielcarek and U.K. Schkade

P.4

Occurrence and Behaviour of Norm in the Water Industry: from Well to Sewer
A. Landgraff and K. Coy




P.5

Thorium in Lamp Technology and Some Aspects of Radiation Protection
K. Weinmüller and M. Hermann




P.6

Workplace Exposure to Materials Containing NORM in Bavarian
R. Mallick and K. Coy