"ALARA issues arising for Safety and Security of Radiation Sources and Security Screening Devices", Vienna, Austria, 21-23 October 2009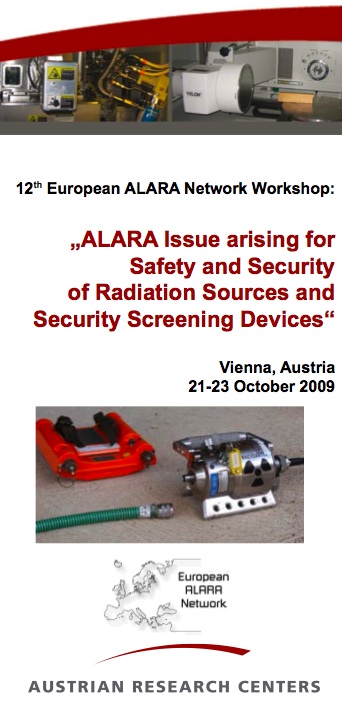 Download the Conclusions of the Workshop (without references)

Download the Conclusions of the Workshop (with references)


Download Special Issue of the ALARA Newsletter dedicated to the Workshop

Background and objectives
Radiation protection has always included security-related provisions, for example measures to prevent the unauthorised use and illegal transfer of sources, which have contributed to the overall system of radiation safety. In recent years, however, interest in security issues has dramatically increased and the challenge is to ensure that safety and security measures are designed and implemented in an integrated manner so that security measures do not compromise safety and safety measures do not compromise security.

The aim of the Workshop was to consider how the implementation of ALARA, in terms of planned and emergency exposure situations, involving worker and public doses, is affected by the introduction of these new security-related measures. In the case of new equipment and procedures, there is also the question of whether exposures arising from security screening devices can be justified. In addressing these issues, the Workshop aimed to consider how an optimum balance between protection, safety and security can be achieved.


Programme and downloadable papers and presentations

Paper


Title, Authors
Paper (Pdf)

Pres. (Pdf)



Welcome
M. Schwaiger (Managing Director of Seibersdorf Laboratories)



Session 1 - Introduction and Scene Setting


Chairperson: A. Hefner (AIT, Austria)






1.1

EU HASS Directive
V. Tanner (European Commission)




1.2

IAEA activities on control of sources
H. Mansoux (IAEA)




1.3

ALARA in Security and Safety of Radiation Sources: an ICRP perspective
J. Lochard (ICRP)


1.4

International initiatives since 09/11 - Feedback from GICNT and other Workshops
G. Stoppa, R. Sefzig (BMU, Germany)

Session 2 - Security and Safety Measures


Chairperson: V. Tanner (European Commission)




2.1

Operation of the Register on High Activity Sealed Sources in Germany - four years of experience
U. Häusler (BfS, Germany)


2.2

Improved security measures for radiation sources in Norway - A case study of irradiation facilities in hospitals


S. Øvergaard, S. Hustveit (NRPA, Norway)

2.3

Safety, dose optimisation and security: the

quadrature

of the circle
F. Hardeman, F. Vermeersch (SCK-CEN Mol, Belgium)

2.4

Reclassification of security at a waste disposal recovery


L. Hutton, K. Branthwaite (LLWR, UK), B. Morley (Consultant, UK)

2.5

ALARA principle in collecting radioactive sources: the Spanish experience
T. Ortiz Ramis (ENRESA, Spain)

2.6

How to combine security and safety of radioactive sources and good patient service in public of large hospitals


J. Kopp (Klinikum Augsburg, Germany)

2.7

Safety and Security of Sealed Radiation Sources for Industrial NDT Applications
B. Redmer, H-J. Malitte (BAM Berlin, Germany), B. Sölter (DGZfp Berlin, Germany), E. Reinhardt (Governmental District of Cologne, Germany), R. Hacker (Applus RTD Deutschland, Germany)



2.8

An Industry Perspective on an efficient safe and secure Life Cycle Management of Radioactive Sources


W. Fasten (ISSPA, Germany)

Session 3 - Planned Exposure Situations


Chairperson: H. Mansoux (IAEA)




3.1

Training programmes of workers dealing with security: national and regional aspects
P. Dimitriou (GAEC, Greece)


3.2

Aero-gamma measurements as an important tool after a nuclear accident
C. Strobl, I. Krol, M. Thomas, C. Hohmann, C. Brummer (BfS, Germany)


3.3

Overview of ISIS (In-Situ Intercomparison Scenario) 2007 Workshop
M. Schwaiger, F. Strebl (Seibersdorf Laboratories, Austria)




3.4

Experience of Georgian authorities in recovering orphan sources
G. Nabakthiani, L. Chelidze (NRSS, Georgia)

Session 4 - Emergency situation management (especially due to malevolent acts)


Chairperson: J. Lochard (CEPN, France)




4.1

Minimizing the radiation exposure risk of first responders during emergency situation management
E.A. Kroeger, R. Maier (BfS, Germany)


4.2

Training of emergency responders
M. Blaickner (AIT, Austria), T. Geringer (Seibersdorf Laboratories, Austria)




4.3

The UK Health Protection Agency's response to Polonium-210 Incident in London 2006
P. Tattersall (HPA, UK)


4.4

Radiation Protection Measures during the Investigation of Polonium-210 traces in Hamburg in December 2006
E.A. Kroeger, R. Maier (BfS, Germany)


4.5

IAEA Emergency Preparedness and Response Programme
E. Buglova (IAEA)




4.6

On the use of an ALARA tool to countering nuclear or radiological terrorism
F. Vermeersch, C. Rojas-Palma, K. Van der Meer, R. Nijs (SCK-CEN Mol, Belgium)

Session 5 - Justification and optimisation of doses in the use of security devices


Chairperson: A. Schmitt-Hannig (BfS, Germany)




5.1

Use of X-ray Body Scanner Equipment in the UK and matters to consider to keep doses ALARA
A. MacDonald (HPA, UK)


5.2

Radiation Protection Control Area around Passenger Baggage X-ray Units
I. Prlić, M. Surić Mihić, T. Meštrovic (Institute for Medical Research and Occupational Health, Croatia), Z. Cerovac (ALARA Ltd, Croatia)


5.3

Type testing of basic-protection devices in Germany
S. Neumaier, H. Dombrowski (PTB, Germany), K-H. Motzkus (BfS, Germany)

Session 6 - Feedback and Conclusions


Chairpersons: P. Shaw, P. Croüail (EAN)








6.1

Report from the Working Group 1: Implementation of the Code of Conduct and HASS - ensuring ALARA (

The PPT is the result of the Working Group discussions. It has not been modified by the Editorial Team

)








6.2

Report from the Working Group 2:

Balancing security and safety - how to achieve an optimum solution? (

The PPT is the result of the Working Group discussions. It has not been modified by the Editorial Team

)







6.3

Report from the Working Group 3: Management of emergency exposure situation from an ALARA perspective (

The PPT is the result of the Working Group discussions. It has not been modified by the Editorial Team

)






6.4

Report from the Working Group 4: Justification and optimisation in the use of security devices (

The PPT is the result of the Working Group discussions. It has not been modified by the Editorial Team

)







6.5

Conclusions