"ALARA in Radioactive Waste management", Athens, Greece, 9-11 April 2008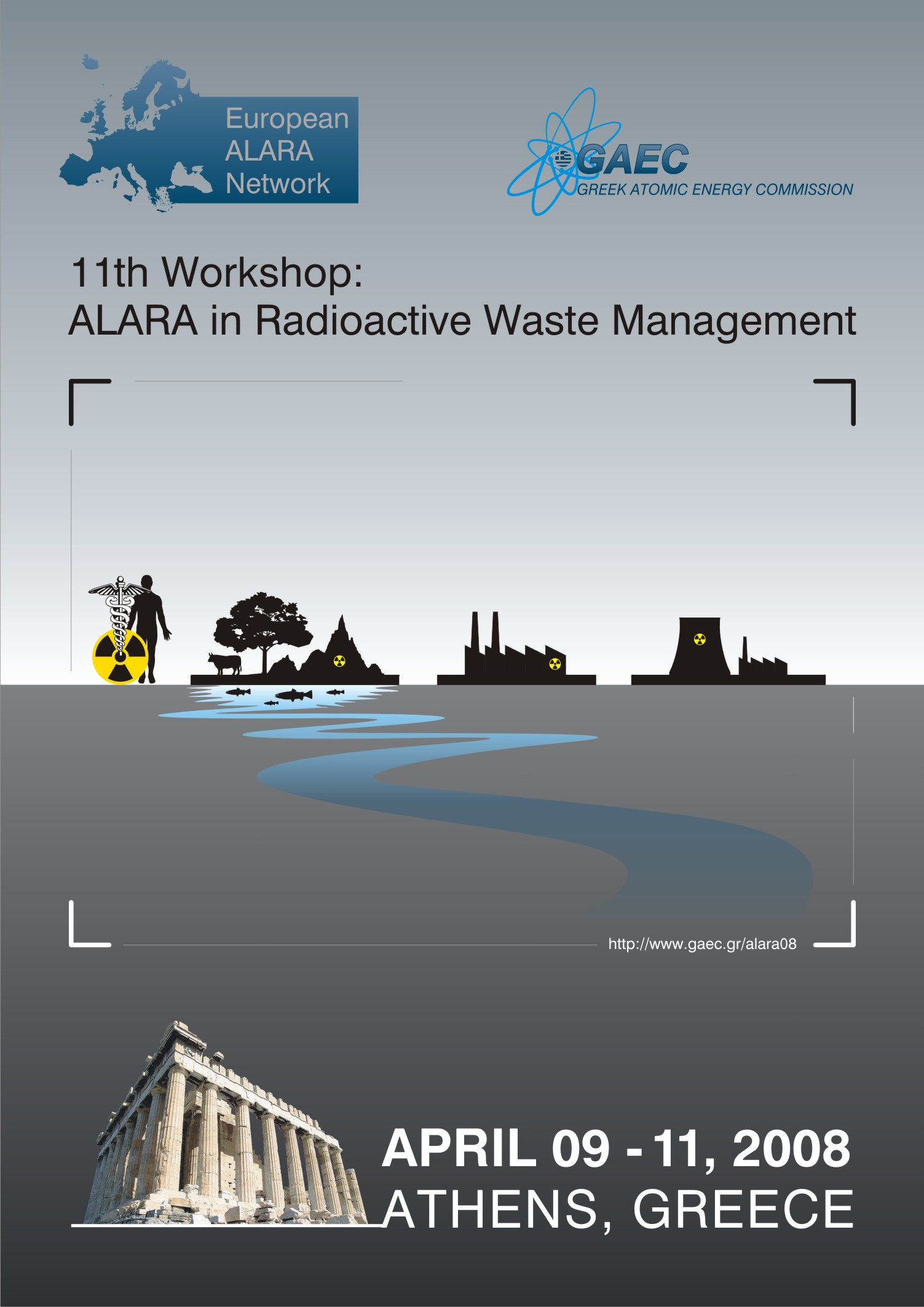 Download the Conclusions and Recommendations
See the pictures of the 11th Workshop
The aim of the 11th EAN Workshop was to focus on the implementation of the ALARA principle with regard to occupational and public exposures arising from the management of radioactive waste. This included waste from the nuclear, medical, NORM, industrial, education and research sectors.
As with previous workshops, this workshop consisted of presentations (oral and posters) intended to highlight the main issues, and a significant part of the programme was devoted to discussions within working groups with viagra safe. From these discussions, participants produce drecommendations on ALARA in Radioactive Waste Management addressed to relevant local, national and international stakeholders.
Working Group Topics
Dealing with doses – how to take account of different dose distributions, worker and public doses, doses over long timescales, etc.
How should ALARA be applied and implemented in the areas of re-use and recycling of radioactive residues?
How should ALARA be applied and implemented in the area of disposal of radioactive waste?
Why should different strategies be applied to the different sectors and what should these differences be?
What are the main criteria that should be used for decision-making in the management of radioactive waste?
Programme and Downloadable Papers
Paper

Title, Authors

 PDF

 PPT

 
Session 1 - Introduction and Scene Setting


Chairperson: V. Kamenopoulou (GAEC - Greece)



 
 

1.1

The system of radiation protection, a framework for radioactive waste management
A. Janssens, S. Mundigl, W. Hilden, G. Bruno (EC, DG Energy and Transport)


1.2

Optimisation principle versus minimisation principle: practical application of the new ICRP recommendations
W. Weiss (Committee 4 of ICRP)

 
 

1.3

ALARA in the IAEA safety standards, which are applicable to the management of radioactive waste
L. Baekelandt (FANC - Belgium), D. Louvat (IAEA)


1.4

Optimisation in the management and disposal of NORM wastes - experiences from the EANNORM project
K. Flesch, H. Schulz (IAF Radioökologie GmbH - Germany), R. Gellermann (HGN Hydrogeology GmbH - Germany), E. Ettenhuber (Germany)

1.5

Review of radioactive waste in Ireland
D. Howett (RPII - Ireland)


1.6

For a consistent management of radioactive waste in France: the national plan for the management of radioactive material and waste
P. Bodenez, J. Vallet (ASN - France)
 
Session 2 - Stakeholder involvement and decision-making


Chairperson: J. van der Steen (NRG - The Netherlands)



 
 

2.1

Stakeholder involvement in radioactive waste management in the UK
L. Warren (Independant Consultant, CoRWM - UK), B. Morley (LLW Repository Ltd. - UK)


2.2

Considering the modalities of intergenerational tranfer associated with radioactive waste management


T. Schneider, C. Schieber (CEPN - France), S. Gadbois, G. Hériard-Dubreuil (MUTADIS - France)

 

2.3

The Belgian experience on developing a near surface disposal facility in partnership with the local stakeholders
P. De Preter (NIRAS/ONDRAF - Belgium)

 
Session 3 - Application of the ALARA principle


Chairperson: I. Lund (SSI - Sweden)



 
 

3.1

Dose reduction below de minimis level?
J. Feinhals (TÜV Nord SysTec - Germany)


3.2

Clearance and recycling of very low-level radioactive waste: an ALARA practice?
L. Vaillant, F. Drouet (CEPN - France)


3.3

The application of ALARA in radioactive waste disposal - UK perspective
B. Morley (LLW Repository Ltd - UK), G. Butler, G. McGlynn (Integrated Decision Management Ltd - UK)


3.4

Occupational exposure in radioactive waste management in Germany
V. Kunze (BfS - Germany), J. Feinhals (TÜV Nord SysTec - Germany)


3.5

Projected worker and public doses from long-term intermediate storage of radioactive waste at nuclear engineering Seibesdorf
A. Brandl, R. Bayerknecht (Nuclear Engineering Seibesdorf - Austria), A. Hefner (Austrian Research Center, Seibesdorf - Austria)

 
Session 4a - Practical experience, including technical solutions, from the non-nuclear sectors


Chairperson: B. Morley (LLW Repository Ltd - UK)



 
 

4a.1

Doses to sewage workers due to 131I waste used for therapeutic purposes
S. Vogiatzi, E. Carinou, C. Potiriadis, C-J. Hourdakis, P. Dimitriou, V. Kamenopoulou (GAEC - Greece)

 

4a.2

Regulations on radioactive waste from practices using unsealed radioactive sources
A-L. Södermann, H. Hellström (SSI - Sweden)


4a.3

Assessing doses to the public from discharges of radionuclides from non-nuclear establishments in the UK
C. McDonnell (HPA - UK)

 

4a.4

Incineration of low-level radioactive wastes from non-nuclear sources in the UK
C. McDonnell (HPA - UK)
 
 
Session 4b - Practical experience, including technical solutions, from the nuclear sector


Chairperson: C. Schieber (CEPN - France)



 
 

4b.1

Application of the ALARA principle in dismantling and disposal of a research reactor primary cooling system delay tank
A. Savidou, F. Tzika, S. Hatzidakis, I.E. Stamatelatos (NCSR Demokitos - Greece)


4b.2

Co-operation development project for new treatment of SG's - Impact of final disposal volumes and recycling in Northern Europe
B. Wirendal, A. Lindström, M. Lindberg (Studsvik Nuklear AB - Sweden), T. Hansson, T. Svedberg (Vattenfall Ringhals - Sweden)


4b.3

Optimisation of dose exposure at cask handling for intermediate storage
K. Dreesen, D. Hoffmann, B. Lorenz (GNS Gesellschaft für Nuklear-Service - Germany)

 
 
Session 5 - Conclusions and Recommendations


Chairpersons: P. Shaw, P. Croüail (EAN)



 

 

5.1

Report from the Working Group 1: Dealing with doses - how to take account of different dose distributions, worker and public doses, doses over long timescales, etc.

 

5.2

Report from the Working Group 2: How should ALARA be applied and implemented in the areas of re-use and recycling of radioactive residues?


 

5.3

Report from the Working Group 3: How should ALARA be applied and implemented in the area of disposal of radioactive waste?


 

5.4

Report from the Working Group 4: Why should different strategies be applied to the different sectors and what should these differences be?


 

5.5

Report from the Working Group 5: What are the main criteria that should be used for decision-making in the management of radioactive waste?


 

5.6

Summary and Recommendations


P. Shaw