Workshops
Feed back experience shows that there is in Europe a need for Workshops which are neither a big congress nor a collection of working groups with lots of different meetings, but which over a few days provide a forum for a few dozen experts to exchange feedback experience and to identify problems that need further research or development. Therefore the Network has organised and will continue to organise such type of Workshop once a year.
The subject is selected in order to cover domains where the Network Steering Committee Group estimates that many improvements in terms of ALARA implementation may be found. All papers are invited presentations. To promote discussions, appropriate time is made available for work in small groups and the number attending the workshop is limited to a few dozens experts. The language of the Workshops is English.
At the end of each Workshop the chairpersons and the working groups propose to the participants some recommendations to the EC and national regulatory bodies and other stakeholders corresponding to the feedback from the sessions of the Workshop. These recommendations are validated by the Network Steering Committee Group and send to the Commission and to other appropriate stakeholders.
Details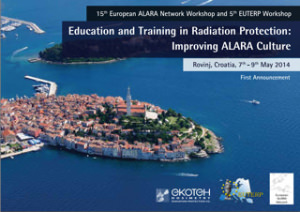 15th European ALARA Network Workshop, Rovinj, Croatia, 7 – 9 May 2014
"Education and Training in Radiation Protection
Improving ALARA Culture through Education and Training"
Aims and Objectives
Previous EAN and EUTERP workshops have noted the importance of delivering effective radiation protection education and training to workers and other stakeholders. Consequently, this joint EAN-EUTERP workshop considers how education and training programmes can be delivered effectively, to improve radiation protection in practice and disseminate ALARA culture.
The workshop will consist of presentations (oral and posters) intended to highlight the main issues, and a significant part of the programme will be devoted to discussions within working groups. Participants will be expected to produce recommendations on education and training issues, to be addressed to relevant local, national and international stakeholders
Scope of the Workshop
The workshop programme covers education and training for various types of stakeholders and is expected to consider the following subjects:
The new European BSS

European qualification and accreditation schemes (ECVET, EQF, etc.)

The effectiveness and efficiency of education and training
Practical ALARA training

New learning tools
Working Groups
As part of the programme, time has been devoted for discussions between participants (divided in four working groups). The working groups have tackled issues such as :
How to assess the effectiveness of training (WG1)?
Tools to improve the effectiveness of training (WG2).
What is achieved by recognition schemes (WG3)?
Incorporating ALARA culture in training requirements - How to improve risk awareness, radiation protection and ALARA understanding for different stakeholders and different levels of exposure (WG4)?
Presentations
Session 1 - Setting the scene
Session 2 - Building ALARA into radiation protection training programmes
Session 3 - Measuring the effectiveness of training, the role of qualification and recognition schemes
Session 4 - Tools and methods
Session 5 - National approaches
Session 6 - Working Group conclusions and Workshop synthesis