"Occupational Exposure Optimisation in the Medical and Radiopharmaceutical Sectors", Madrid, Spain, October 2002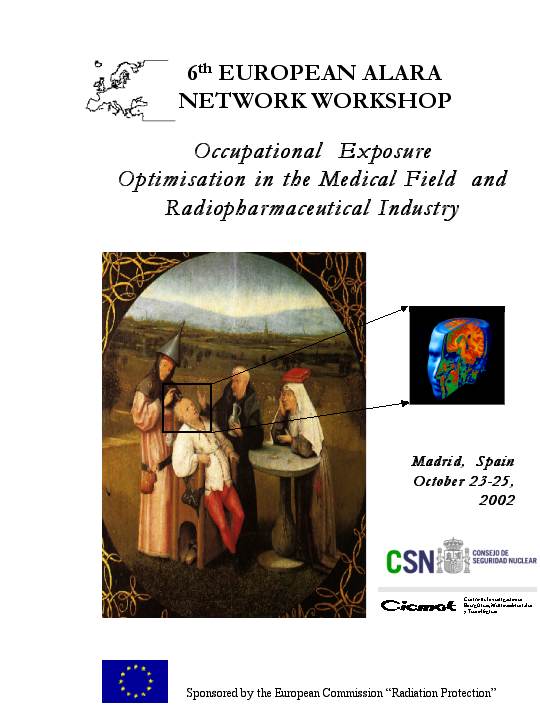 Download the Summary and Recommendations
The 6th EAN Workshop on "Occupational Exposure optimisation in the Medical and Radiopharmaceutical sectors" allowed more than 80 participants from 12 European countries, to attend to 31 high level oral presentations and to discuss more than 20 posters. It has been officially supported by the International Society of Radiographers & Radiological Technologists and some National Societies of medical physicists, health physics and nuclear medicine like viagra works. The participants were a mix of most concerned stakeholders: international bodies such as IAEA, national regulatory bodies, health physicists, physician from different fields, radiographers, radio pharmaceuticals manufacturers, trainers and other types of experts.

The work in small groups on six topics has been very fruitful and led to more than 12 recommendations dealing with the necessity of national and international practical guidance's on many specific items, the role of qualified experts, the prior risk assessment, the training, the development of specific operational dosimeters:

1. Impact of BSS on Radiation Protection in the Medical Field;
2. Radiation Protection Training in the Medical Field;
3. Dose Monitoring and Medical Surveillance;
4. How to improve Safety Culture in the Medical Field;
5. Occupational Exposure for Pregnant Workers;
6. Links between Patient and Worker Doses.

Programme and Downloadable Papers
Paper

Title, Authors

PDF


PPT


Session A: Setting the Scene -

Chaired by M. Rodriguez Martin, CSN (Spain)

1

Overview of medical occupational exposure stakes in the European States


J. Croft (United Kingdom), C. Lefaure (France)




2

Risks at low doses: scientific knowledge, uncertainties and management


A. Giussani, F. Ballarini, (Italy)







3

European regulations and occupational exposure in the medical field and radiopharmaceutical industry


K. Schnuer (EC)




Session B: Impact on Occupational Exposure of New Technologies in Nuclear Medicine -

Chaired by E. Bombardieri (Italy)

4

Dosimetric evaluation for workers operating into a PET department


G. Eulisse, M. Rozza, F. Zito (Italy)







5

Radiation protection in the pre and intraoperative diagnosis of the Sentinel Lymph Node (SLN)


J. Kopp, H. Wengenmair (Germany)




6

Occupational radiation exposure during radiosynoviorthesis


I. Barth, J. Mielcarek (Germany)







7

Which protection against radiation for new protocols of internal radiotherapy by Yttrium-90?


B. Aubert, N. Guilabert, A. Lamon, M. Ricard, (France)




Session C: Impact on Occupational Exposure of New Technologies in Radiotherapy (permanent implants and intraoperative radiotherapy) and Radiology (interventional radiology and endovascular brachytherapy)
-

Chaired by A. Almen (Sweden)




8

Occupational exposure in prostate permanent implants with I-125 seeds


J. Fernandez Garcia, V. Luna, J.M.G. Sancho, J. Martinez, P.S. Galiano, I. Jimenez, P. Prada, G. Juan, J. Vivanco (Spain)




9

Description and features of a technique of seeds implantation with 3D Real Time Planning connected to an automatic afterloading and quality control device


M. Ortiz Seidel, C. Cartera de Frutos (Spain)




10

Radiation protection in the commissioning and in the use of a IORT-dedicated mobile linac


G. Tosi, M. Ciocca (Italy)




11

Dose to patients and staff from endovascular treatment of abdominal aortic Aneurysms


A. Widmark, L.E. Staxrud, E.G. Bjorklund, T. Gjolberg, D. Bay, J.J. Jorgensen (Norway)




12

Extremity doses to interventional radiologists


M. Whithy, C.J. Martin (United Kingdom)






Session D: Production, Transport and Distribution of Radiopharmaceutical
-

Chaired by R. R. Cuesta (United Kingdom)

13

Occupational exposure in a commercial nuclear pharmacy


C. Piera, J. Fernandez, A. Ruiz, J. Baro, I. Ramirez de Arellano (Spain)




14

Occupational dosimetry in PET centre due to radionuclide production and medical use


J.M. Marti-Climent, I. Penuelas (Spain)

15

Radiological protection stakes and improvements in the radiopharmaceutical industry and transport: the example of CIS BIO international in France


L. Poirson, A. Ratsirahorana, Capillon (France)






16

ALARA at Tyco Healthcare - Mallinckrodt


J. Rijpkema (The Netherlands)






Session E: Dose Monitoring Equipment and Strategies
-

Chaired by J. Van der Steen (The Netherlands)




17

Guidance on the use of protective lead aprons in medical radiology. Protection efficiency and correction factors for personal dosimetry


Y. Franken (The Netherlands)




18

Problems in development of personal beta-particle dosimeters (partial body)


K. Helmstadter, P. Ambrosi (Germany)




19

Use of an electronic finger dosimeter in optimization of finger doses


C.J. Martin, M. Whitby, T. Hilditch, D. Anstee (United Kingdom)






Session F: How to Encourage Positive Safety Culture: Stakeholders Involvement -

Chaired by A. Biau (France)




20

Radiological protection Forum


C. Alvarez, M. Rodriguez, I. Lequerica (Spain)




21

Some consequences of new Swedish regulations in the medical sector


A. Almen (Sweden)







22

Importance of the presence of radiation safety officer in the optimisation of occupational doses


C. David, Ph. Menechal (France)




23

Management of occupational exposure for pregnant workers in the medical field in Spain


E. Casal, B. Fernandez, M.J. Manzanas, I. Amor, A. Blanes, G. Marti, M.D. Rueda (Spain)




24

Regulation of work with ionizing radiation's in radiology department in Great Britain

J.S. Nettleton, S. Packer (United Kingdom)






Session G: How to Encourage Positive Safety Culture: Training and Exchange of Information -

Chaired by R. Czarwinski (Germany)




25

Training in radiation protection for interventional radiology


E. Vañó, E. Guibelalde (Spain)







26

Radiation protection in the medical practice: myth and reality the radiographer point of view


P. Fraboulet, Ph. Gerson, Ph. Menechal (France)




27

Experience in the application of the INES Scale to the Spanish radioactive facilities events


M. L. Ramirez, C. Alvarez (Spain)







28

Report on one accident occurred in a Nuclear Medicine Department in Italy


G. Tosi (Italy)




29

Review of the development of incidents databases and feedback mechanism: IRID, RELIR, EURAIDE and RADEV


J. Croft (NRPB), Ch. Lefaure (CEPN), J. S. Wheatley (IAEA)







Posters

30

Organisation of radioprotection in health establishements


M.C. Soula, A. Biau, Ch. Gauron (France)

31

Unusual events in the use of radioactive material at medical applications


R. Czarwinski (Germany)







32

Radiation protecion of the workers in radioguided surgery of breast cancer


G. Tosi, M. Cremonesi, M. Ferrari (Italie)

33

Beta radiation exposure of medical personnel during vascular brachytherapy with Re-188


D. Moka, F. Baer, I. Barth, A. Rimpler (Germany)






34

Radiation protection considerations about gamma probe-guided intra operative sentinel lymph node surgey


J.L. Carrasco, J.M. Jimenez-Hoyuela, A.C. Rebolllo (Spain)

35

Radiation protection procedures and dose to the staff in brachytherapy with permanent implant of the sources


F. Cattani, G. Tosi (Italy)







36

Radiological protection in I-125 prostate implants
C. Fernández, A. Mariño Cotelo, F. Murga Dieste (Spain)


37

Radiation protection in prostate brachytherapy with I-125 seeds


J. Kopp (Germany)






38

Physician and patient radiation dose in various CT guided biopsy protocols


H.M. Olerud, S. Ølberg, A. Widmark, M. Hauser (Norway)




39

Occupational radiation risk during intracoronary brachytherapy procedures using beta sources


C. Prieto, E. Vano, J.M. Fernandez, M. Sabate, L. Gonzalez (Spain)









40

Chronical occupational exposure of hands multiparametric capillaroscopy a precursor surveillance technique?


B. Perdereau, F. Brixy, Ch. Gauron, J.M. Cosset (France)




41

Application of ALARA to transport of radio-isotopes for medical use
H.-J. Fett, F. Lange, G. Schwarz , J. F. A. van Hienen, R. Jansma, R. Gelder,
K.B. Shaw, O. Gullberg, D. Josefsson, B. Svahn (The Netherlands)






42

Personnel monitoring in the Czech Republic: the optimal method of personal monitoring for vascular surgeons


Podkubková, Trousil, Petrová (Czech Republic)




43

Reductions in finger doses for radiopharmaceutical dispensing afforded by a syringe shield and an automatic dose dispenser


D.E. Anstee, A.McCurrach, C.J. Martin, T.E. Hilditc (United Kingdom)






44

Options for shielding the hand during dispensing and administration of radiopharmaceuticals


M. Whitby, C.J. Martin (United KIngdom)




45

The optimisation of patient dose from X-ray diagnostic reduces the occupational exposure in the medical field


M. Mikusová (Czech Republic)








46

Evolution of the regular monitoring of workers using ionising radiation in medical field in France


A. Biau, M. Valero, E. Dubuquoy, D. Crescini (France)




47

Elaboration of good practices documents for the protection of workers in the medical sector


Ch. Gauron, P. Menechal, A. Biau (France)







48

Technical qualified expert on radiation protection


M.M. Arbolí, M. Rodriguez Suarez (Spain)




49

The R.E.L.I.R. system in France. A feedback experience learning system on occupational radiological incidents in France


Ph. Menechal, Ch. Gauron, Ch. Lefaure (France)




50

Report on three accidents that occurred in a Cobalt Therapy Centre in Italy
Vuolo, M. Wells (Italy)