Workshops
Feed back experience shows that there is in Europe a need for Workshops which are neither a big congress nor a collection of working groups with lots of different meetings, but which over a few days provide a forum for a few dozen experts to exchange feedback experience and to identify problems that need further research or development. Therefore the Network has organised and will continue to organise such type of Workshop once a year.
The subject is selected in order to cover domains where the Network Steering Committee Group estimates that many improvements in terms of ALARA implementation may be found. All papers are invited presentations. To promote discussions, appropriate time is made available for work in small groups and the number attending the workshop is limited to a few dozens experts. The language of the Workshops is English.
At the end of each Workshop the chairpersons and the working groups propose to the participants some recommendations to the EC and national regulatory bodies and other stakeholders corresponding to the feedback from the sessions of the Workshop. These recommendations are validated by the Network Steering Committee Group and send to the Commission and to other appropriate stakeholders.
Details
"ALARA issues arising for Safety and Security of Radiation Sources and Security Screening Devices", Vienna, Austria, 21-23 October 2009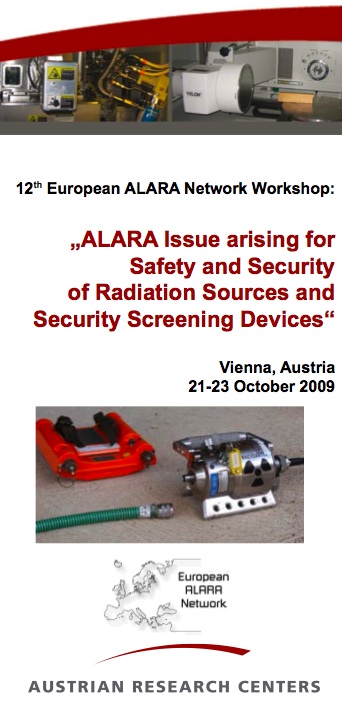 Download the Conclusions of the Workshop (without references)

Download the Conclusions of the Workshop (with references)


Download Special Issue of the ALARA Newsletter dedicated to the Workshop

Background and objectives
Radiation protection has always included security-related provisions, for example measures to prevent the unauthorised use and illegal transfer of sources, which have contributed to the overall system of radiation safety. In recent years, however, interest in security issues has dramatically increased and the challenge is to ensure that safety and security measures are designed and implemented in an integrated manner so that security measures do not compromise safety and safety measures do not compromise security.

The aim of the Workshop was to consider how the implementation of ALARA, in terms of planned and emergency exposure situations, involving worker and public doses, is affected by the introduction of these new security-related measures. In the case of new equipment and procedures, there is also the question of whether exposures arising from security screening devices can be justified. In addressing these issues, the Workshop aimed to consider how an optimum balance between protection, safety and security can be achieved.