Workshops
Feed back experience shows that there is in Europe a need for Workshops which are neither a big congress nor a collection of working groups with lots of different meetings, but which over a few days provide a forum for a few dozen experts to exchange feedback experience and to identify problems that need further research or development. Therefore the Network has organised and will continue to organise such type of Workshop once a year.
The subject is selected in order to cover domains where the Network Steering Committee Group estimates that many improvements in terms of ALARA implementation may be found. All papers are invited presentations. To promote discussions, appropriate time is made available for work in small groups and the number attending the workshop is limited to a few dozens experts. The language of the Workshops is English.
At the end of each Workshop the chairpersons and the working groups propose to the participants some recommendations to the EC and national regulatory bodies and other stakeholders corresponding to the feedback from the sessions of the Workshop. These recommendations are validated by the Network Steering Committee Group and send to the Commission and to other appropriate stakeholders.
Details
"Occupational Radiological Protection Control through Inspection and Self-assessment", Uppsala, Sweden, September 2004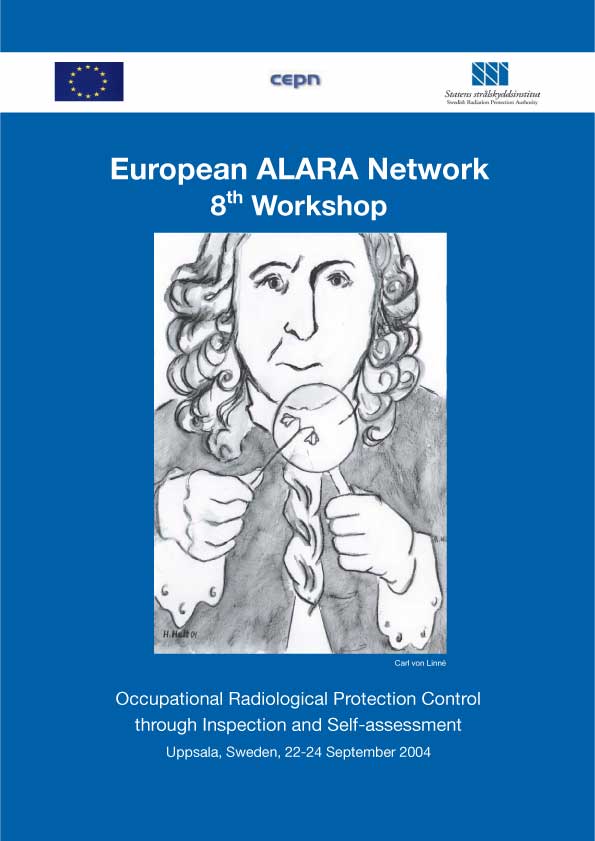 Download the Summary and Recommendations
The 8th EAN Workshop was devoted to "Occupational Radiological Protection Control through Ispection and Self- assessment". The objective of the Workshop was "to assess how regulatory authorisation and inspection, and internal controls (peer reviews, self assessment, etc.) contribute to achieving ALARA for occupational exposure". A total of 70 participants from 19 European countries attended the Workshop; respectively half and one third of the audience were from the regulatory bodies and utilities from medical and industry sectors.
In total, there were 14 oral presentations, and 10 poster presentations, organised under the following titles:
Setting the Scene
Regulatory Bodies and Control Organisations
Licensees and
Workers
The opening session included a presentation of the results of an EAN questionnaire on the size and structure of national regulatory authorities. It also identified a series of issues and questions for later consideration by the Working Groups. Half of the time was devoted to this discussions in small groups on the following specific issues:
Inspection
Self assessment
Workers' involvement and
Communication between stakeholders
8 main recommendations were produced and unanimously agreed on by the participants. They are dealing with inspectors training,as well as with the facts - that self assessment should become a regulatory requirement and give rise to guidance - and that the workers themselves should become active "stakeholders" in these processes – or that regulatory bodies network should be set up to harmonising inspections.
Read more: 8th Workshop on "Occupational RP Control through Inspection and Self-assessment"