Workshops
Feed back experience shows that there is in Europe a need for Workshops which are neither a big congress nor a collection of working groups with lots of different meetings, but which over a few days provide a forum for a few dozen experts to exchange feedback experience and to identify problems that need further research or development. Therefore the Network has organised and will continue to organise such type of Workshop once a year.
The subject is selected in order to cover domains where the Network Steering Committee Group estimates that many improvements in terms of ALARA implementation may be found. All papers are invited presentations. To promote discussions, appropriate time is made available for work in small groups and the number attending the workshop is limited to a few dozens experts. The language of the Workshops is English.
At the end of each Workshop the chairpersons and the working groups propose to the participants some recommendations to the EC and national regulatory bodies and other stakeholders corresponding to the feedback from the sessions of the Workshop. These recommendations are validated by the Network Steering Committee Group and send to the Commission and to other appropriate stakeholders.
Details
"Occupational Exposure Optimisation in the Medical and Radiopharmaceutical Sectors", Madrid, Spain, October 2002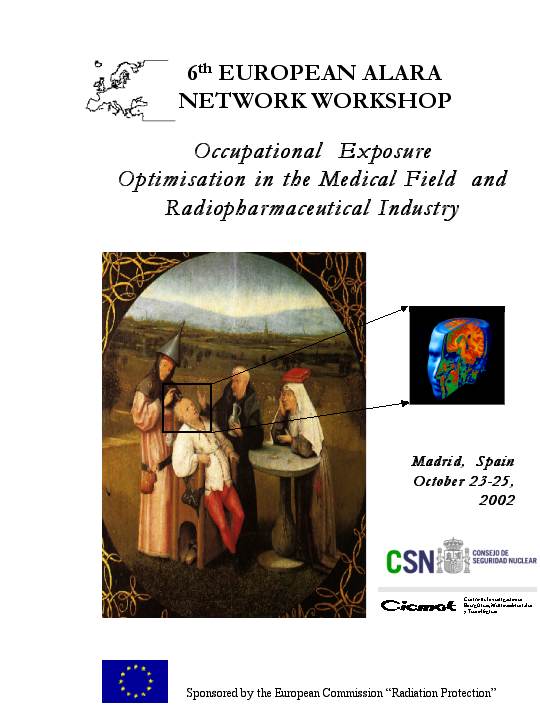 Download the Summary and Recommendations
The 6th EAN Workshop on "Occupational Exposure optimisation in the Medical and Radiopharmaceutical sectors" allowed more than 80 participants from 12 European countries, to attend to 31 high level oral presentations and to discuss more than 20 posters. It has been officially supported by the International Society of Radiographers & Radiological Technologists and some National Societies of medical physicists, health physics and nuclear medicine like viagra works. The participants were a mix of most concerned stakeholders: international bodies such as IAEA, national regulatory bodies, health physicists, physician from different fields, radiographers, radio pharmaceuticals manufacturers, trainers and other types of experts.

The work in small groups on six topics has been very fruitful and led to more than 12 recommendations dealing with the necessity of national and international practical guidance's on many specific items, the role of qualified experts, the prior risk assessment, the training, the development of specific operational dosimeters:

1. Impact of BSS on Radiation Protection in the Medical Field;
2. Radiation Protection Training in the Medical Field;
3. Dose Monitoring and Medical Surveillance;
4. How to improve Safety Culture in the Medical Field;
5. Occupational Exposure for Pregnant Workers;
6. Links between Patient and Worker Doses.

Read more: 6th Workshop on "Occupational Exposure Optimisation in the Medical and Radiopharmaceutical Sectors"