Workshops
Feed back experience shows that there is in Europe a need for Workshops which are neither a big congress nor a collection of working groups with lots of different meetings, but which over a few days provide a forum for a few dozen experts to exchange feedback experience and to identify problems that need further research or development. Therefore the Network has organised and will continue to organise such type of Workshop once a year.
The subject is selected in order to cover domains where the Network Steering Committee Group estimates that many improvements in terms of ALARA implementation may be found. All papers are invited presentations. To promote discussions, appropriate time is made available for work in small groups and the number attending the workshop is limited to a few dozens experts. The language of the Workshops is English.
At the end of each Workshop the chairpersons and the working groups propose to the participants some recommendations to the EC and national regulatory bodies and other stakeholders corresponding to the feedback from the sessions of the Workshop. These recommendations are validated by the Network Steering Committee Group and send to the Commission and to other appropriate stakeholders.
Details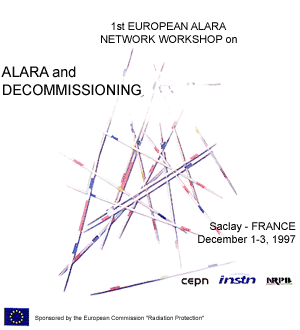 "ALARA and Decommissioning", Saclay, France, December 1997

Download the Summary and Recommendations
Optimisation of radiological protection has been shown to be a routine feature during major decommissioning operations in the nuclear industry sector. ALARA is not only considered as a principle but corresponds also to practices that determine important steps during the planning, the operation and feedback evaluation.
The presentations during the workshop described a wide variety of national approaches which depend on the legal requirements, the availability of funds, the industrial resources and, last but not least, the waste disposal routes in the different European countries. It was also shown that, as far ALARA implementation is concerned, the reality is still far from being ideal everywhere, and that a lot of problems have still to be solved.
If you would like a copy of one presentation, just ask us by e-mail; we will send it to you by post. If you would like to have a copy of the proceedings, they are available at the European Commission in its publication Radiation Protection issue108 ISBN 92-828-7107-X. (Luxembourg Office for Official Publications of the European Communities)