"Decommissioning of Installations and Site Remediation", Arnhem, The Netherlands, October 2003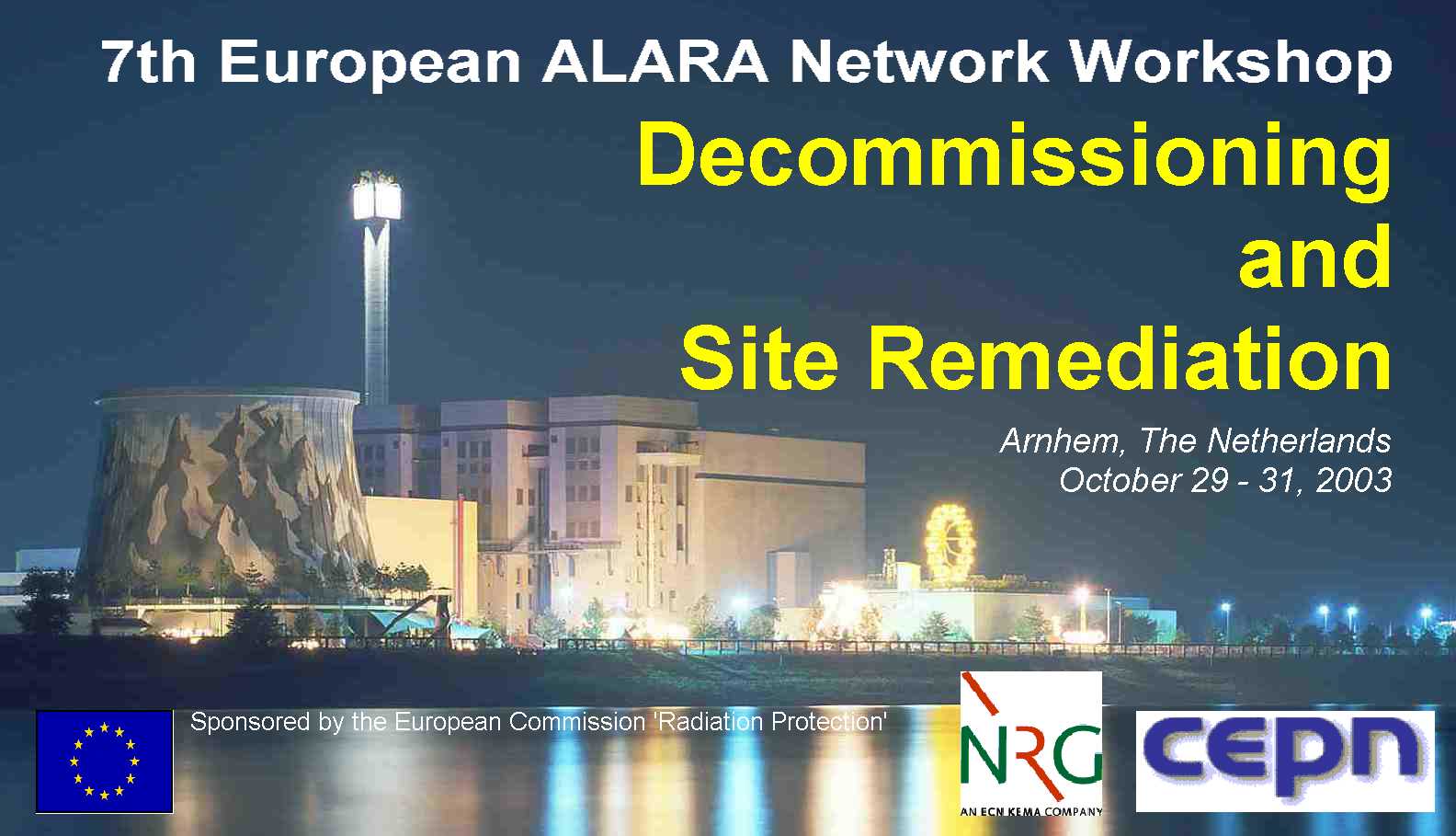 Download the Summary and Recommendations
The 7th EAN Workshop was devoted to "decommissioning and site remediation". This was the first time that a workshop re-visited a specific topic: the 1st EAN Workshop (Saclay, 1997) was devoted to "ALARA and decommissioning". The main objectives of the workshop were to provide a means of reviewing the recommendations of the first Workshop, progress made in the application of ALARA in decommissioning and the remaining needs both in the nuclear and non-nuclear sectors.
Some 60 participants from 11 European countries attended the Workshop. There were 20 oral presentations, mainly devoted to case studies of work undertaken in a variety of different situations (from accelerators and hot cells, to mineral wool (NORM) facilities and contaminated apartments). In addition to a scene setting session there were sessions on:

Site remediation and prevention of internal exposure;

Decommissioning of installations outside the nuclear fuel cycle;

Effectiveness and feedback from the use of dose and dose rates estimating factors.
T
he opening session reviewed the progress made with the recommendations from the 1
st
Workshop, and identified a series of issues and questions for later consideration in the Working Group sessions.
Programme and Downloadable Papers
Paper


Title, Authors

PDF


PPT


Session A: Setting the Scene -

Chaired by J. Van der Steen (The Netherlands)

A1

Introduction and setting the scene


C. Lefaure, P. Shaw

A2

Following up of former recommendations


P. Deboodt




Session B: Site Remediation -

Chaired by G. Morkunas (Lithuania)

B1

The role of ALARA in management decisions


J.A.M.M. Kops




B2

Management of industrial sites contaminated with radionuclides in France


A. Oudiz

B3

Methodology for estimating the doses to members of the public from contaminated land


W.B. Oatway

B4

Restoration of the former site of the institute for nuclear physics research in Amsterdam


P.W.F. Louwrier

Session C: Site Remediation and Prevention of Internal Exposure
-

Chaired by P. Deboodt (Belgium)




C1

Occupational exposure during site remediation at WISMUT


P. Schmidt

C2

Clean-up of a GBq-Pu contamination of two appartments, contaminated by the Pu theft at the WAK (Pilot Reprocessing Plant - Karlsruhe)


P. Höfer

C3

The Olen radium facility: environmental contamination, impact on the population and site remediation


H. Vanmarcke

C4

The role of personal protective equipment in reducing occupational exposure


T.A.J. Bain

Session D: Decommissioning of Installations outside the Nuclear Fuel Cycle
-

Chaired by H. Troen (Danmark)

D1

Dismantlement of the Amsterdam 700 MeV linear electron accelerator MEA, electron storage ring AmPS and the experimental halls


P.W.F. Louwrier

D2

Melting of 137Cs and 60Co sources in a steel plant: remediation and environnement monitoring


V. Berna




D3

Radiological survey of the active central laboratory (ACL) in Studsvik, Sweden


H. Effraimsson

D4

Operational aspects of decommissiong of installations concerning mineral wool

E.I.M. Meijne




D5

Dose reduction techniques employed during cell line decommissioning


I. Pearman, A. Murray

Session E: Effectiveness and Feedback on the use of Dose and Dose Rate Estimating Tools -

Chaired by Vincent Massaut (Belgium)




E1

Dismantling of the hot-cell n° 41 at the SCK-CEN, using the ALARA planning tool VISIPLAN


P. Antoine

E2

Calculation codes for decommissioning


C. Le Goaller

E3

The EDR gamma scanner


J.M. Pérez

E4

Gamma imaging as a complementary technique to health physics monitoring


K. Hughes

E5

The use of a waste conversion index as a long term performance indicator for civil nuclear liabilities


P. Fawcett

POSTERS

P1

Review of dose criteria for cleaning of contaminated land


S. Mobbs

P2

ALARA aspect in decommissioning/moving a storage of nuclear waste (low activity) and remediating the ground


H. Troen




P3

Problems in optimization of radiation protection concerning site remediation: case study


G. Morkunas

P4

The use of functional modelling in a safety audit of radioactive flows


J. Lundtang Paulsen




P5

Regulatory aspects regarding decommissioning of nuclear facilities in Switzerland

S.-G. Jahn

P6

Development of fit for purpose safety cases for decommissioning activities


P. Manson

P7

Decommissioning of the nuclear facilities at Risoe National Laboratory in Denmark

M. Bagger Hansen

P8

The combined use of 3D dose assessment and the human motion simulation in ALARA D&D problems


F. Vermeersch