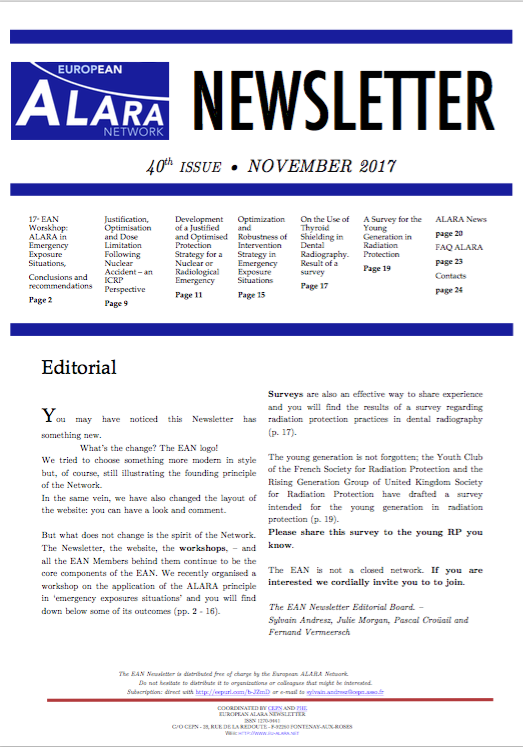 You can access here the 40th issue of the European ALARA Network Newsletter (pdf, 3 Mo). Articles deal with:
The Conclusions and Recommendations from EAN workshop 17 on the application of ALARA in emergency exposure situations, S. Andresz (CEPN, France), J. Morgan (PHE, United Kingdom), F. Vermeersch (SCK•CEN, Belgium), P. Croüail (CEPN, France).
Justification, Optimisation and Dose Limitation following Nuclear Accident - an ICRP Perspective, A. Nisbet (PHE, United Kingdom).
Optimisation and Robustness of Intervention Strategy in Emergency Exposure Situations, S. Nestoroska Madjunarova, C. Robinson (IAEA).
On the Use of Thyroid Shielding in Dental Radiography- Result of a Survey, S. Andresz (CEPN, France), J. Holroyd (PHE, United Kingdom).
A Survey for the Young Generation in Radiation Protection.
As usual: ALARA News and FAQ ALARA (Quiz).
Comments are very welcome.
We wish you a pleasant reading!